Call or visit in store for pricing and availability!
The Gold Crown VI features familiar design with modern styling. The new low-profile leg base and hidden stretcher provide a streamlined appearance while the angular canted leg emphasizes the clean lines. Available in 8ft and 9ft options. 8ft only available in Skyline Walnut/Espresso two tone with pockets and ball storage box not included. 9ft available in pocket or gully return system in Skyline Walnut/Espresso Two Tone, Matte Black, or Mahognay finish.
The Birmingham has a rugged charm with an industrial look that gives your room a vintage touch. This distressed , rough-hewn Charcoal finish stunner is available in both 8' and 9' options and features a unique pedestal base. The pedestal base includes a Cast Iron feature with Hand Hammered Rail Sights.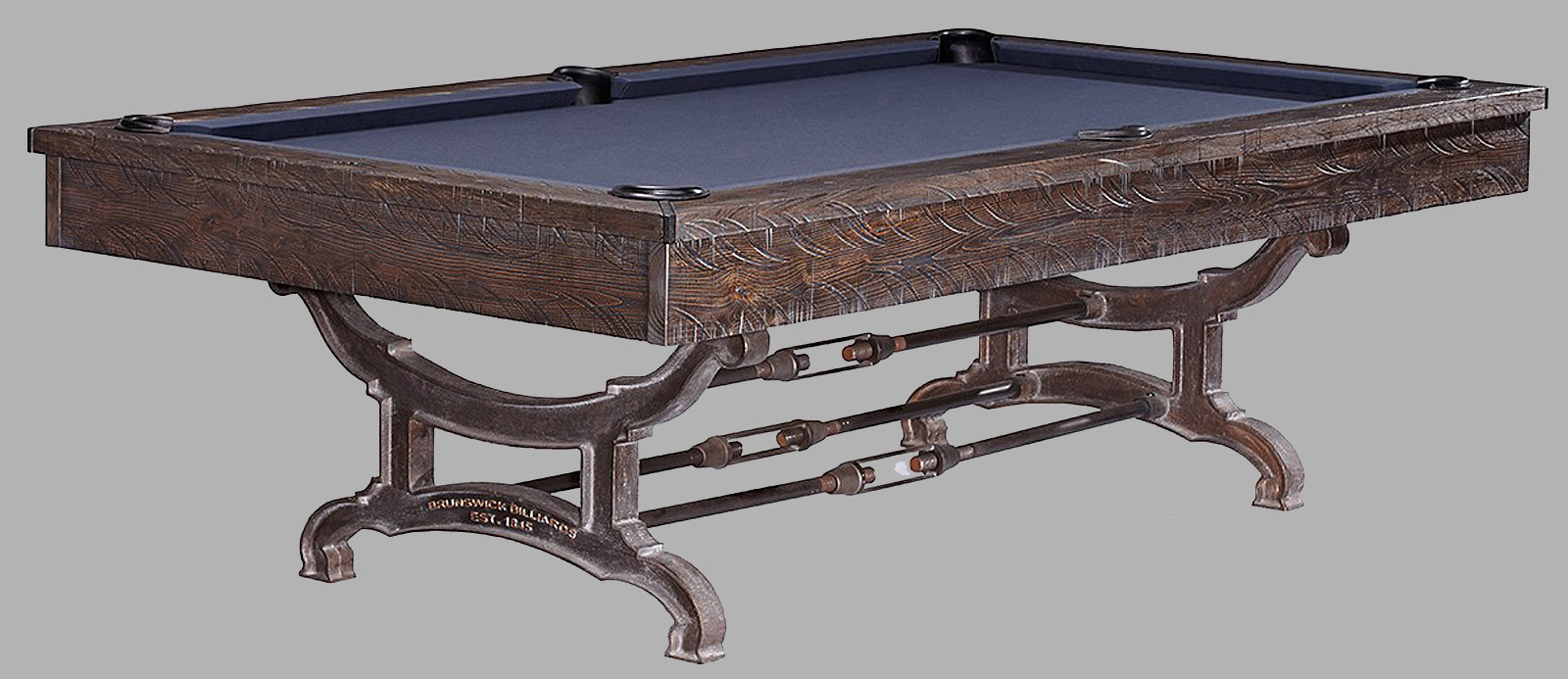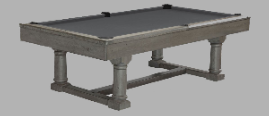 The Glenwood is a graceful addition to any home. One of the most versatile tables in the line offering a wide variety of finishes, leg styles, cloth and pocket styles. It is available in both 7ft and 8ft options and can be fully customized. Shown in Espresso with Talon leg, and Rustic Grey with Tapered leg.

The Centennial is an iconic table from the 1940's & 50's that has been redesigned, allowing the antique style to be combined with technological improvements to deliver performance and an outstanding home design. It is avaliable in 8ft and 9ft options with a Rosewood finish and Polished Aluminum castings and aprons, featuring drop pockets.


The Henderson is avaliable in 8' Polished Stainless-Steel sights & Leg Caps, Espresso Finish, Brunswick Certified Premium Slate, High Performance Nut Plate Construction, Rubber SuperSpeed Cushions.
The Equinox blends materials using solid wood rails wrapped in metal to match the graphite finished metal X styled pedestal legs. Avaliable in 8' graphite finish featuring internal leather drop pockets.
The Botanic has a rustic design with a contemporary flare. With its rugged goog looks and outstanding playability this is a must have for any modern but rustic game room. Available in an 8ft with Rustic Brown finish.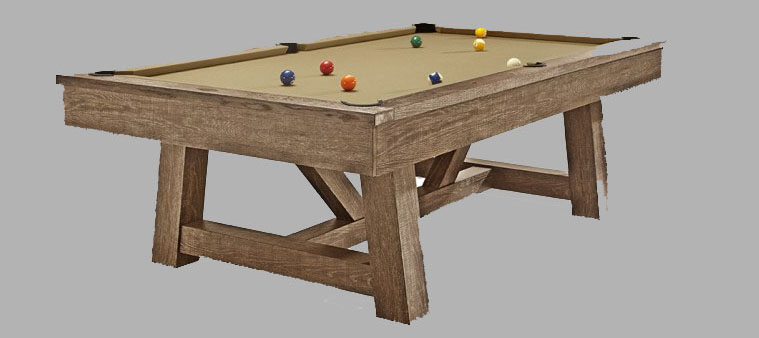 The Black Wolf Pro is a superb combination of modern styling and rigorous engineering standards. This table features attractive and sturdy and pedastal-style legs, a leg stretcher and foot levelers. Available in 7ft, 8ft, and 9ft and your choice of pocket or gully return system. Brunswick Decals are optional.

The Canton is rustic-meets-industrial charm with its hand hammered rail sights and aged metal turnbuckle stretchers, corners and hardware. Available in an 8ft your choice of Black Forest (shown) or Rustic Gray finish .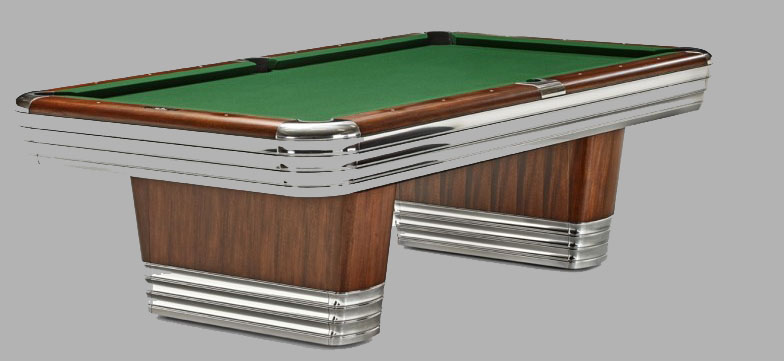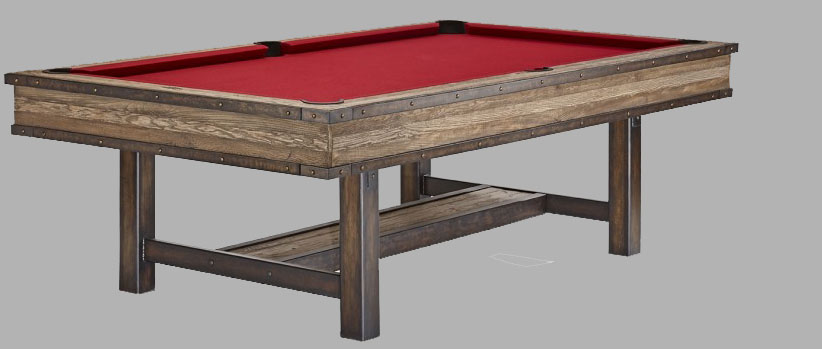 The Edinburgh is a beautiful blend of alternating white oak and ash grained wood with metal trimming. Choose from the weathered oak metal-trimmed or black metal leg base for additional support and style. Both available in 8ft only.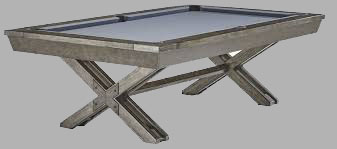 The Gold Crown VI Tournament Edition keeps with the modern styling of the Gold Crown VI featuring longer rails and tighter pockets engineered to strict World Pool-Billiard Association specifications. Table decals are included but optional for installation. This table is available in 9ft Skyline Walnut finish with your choice of drop pockets or gully return system.
The Pursuit is made of solid hardwood construction in a Rustic Black Wire Brush finish. This table features high performance nut plate construction and Brunswick certified premium slate. Only 8' option avaliable.
The Sanibel is a solid hardwood table made of White Oak in a Rustic Grey or Rustic Dark Brown Finish. This table features high performance nut plate construction, super speed rail rubbers and hand hammered rail sights. This table comes in an an 8ft option only. Dining Top is available.
The Brunswick Matanza is a uniquely designed table that will endure for generations. With metal trimmed pedastal legs and sandwashed finish, this table is sure to enhance any room it occupies.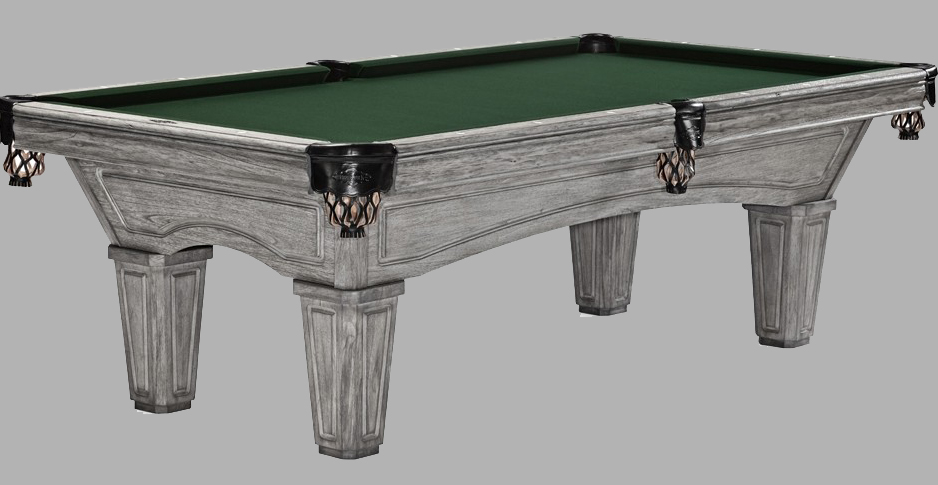 The Brunswick Dameron brings elegance and durability to any recreation space by mixing solid hardwood, white oak veneer and employing steel legs. From the hand-hammered rail sights to the Brunswick name plate in the leg pedastel, every attention to detail was given to this table. This exquisite masterpiece will endure with beauty and grace. Available in 8ft option only with a Nutmeg finish.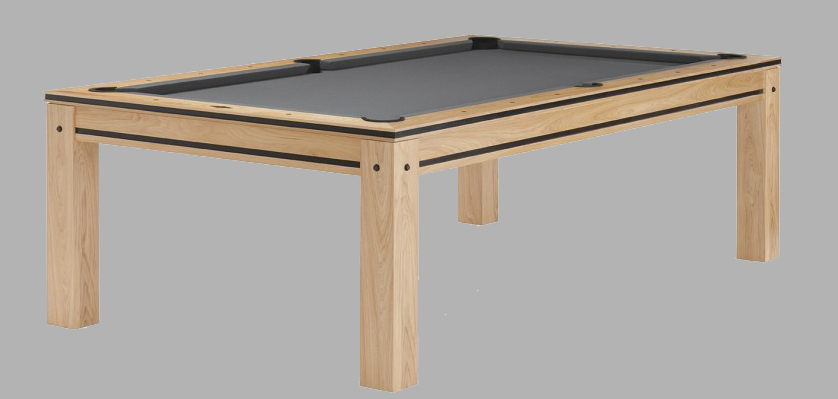 The Brunswick Hickory is a new spin on contemporary design combined with a Natural Hickory finish. This uniquely stunning table is built to create everlasting memories. Available in 7ft or 8ft.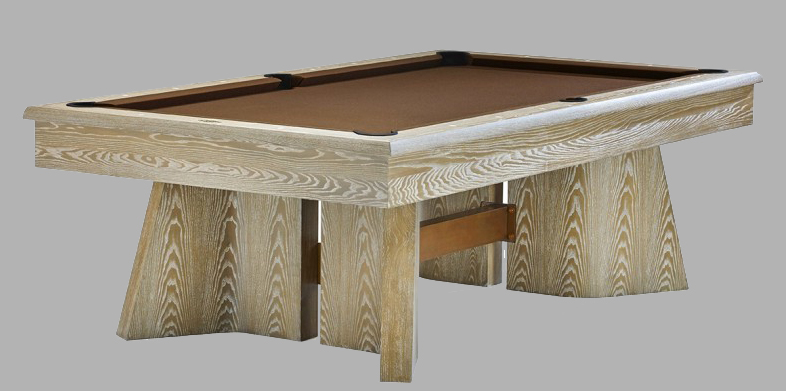 The Brunswick Sagrada is a beefy table made from Solid White Ash Hardwood in a unique Sandwashed Finish. With Mother of Pearl rail sights, leather drop pockets, and Super Speed Rail Rubbers, this table is designed to perform and provide years of great game play. Available in 8ft option only.