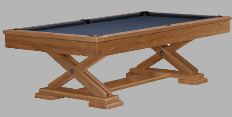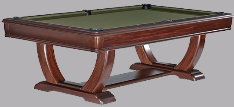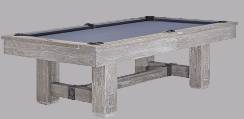 Call or visit in store for pricing and availability!
The Treviso table is of a solid hardwood state and contains super speed rail rubbers. It comes only in Espresso color and is available in a 8ft and 9ft. It has an enclosed pocket and is stylish with its arc legs on each side.
The Metro table has a unique bar look and is perfect for the game room or billiard club. It has black/silver round pearl sights and comes in a gully return or pocket table. It is available in 8ft and 9ft. And in the tournament edition in a 9ft feature.
The Merrimack is a rugged and rustic table that includes a hand rubbed antique finish. It is available in a Nutmeg and Driftwood finished look. And is available in both 8ft and 9ft sizes. It has hammered metal rail sights with a base frame dovetail.
The Gold Crown V has reigned as the industry's best playing professional table. It is available with Enclosed Pockets or with a Gully Return Choice. 9ft is the only available size but it also has the feature of upgrading to the Tournament Edition for those wanting a more professional look and feel.
The De Soto has a clean, sleek and hint of Art Deco look to its liking. It has rounded aprons with waterfall tiers as well as a smooth, curved base. It has the Mother of Pearl Rail Sightings and is only available in Espresso finish. But it is available in a 8ft and 9ft. Also including the options of the Unique or Standard Legs.
The Mackenzie has a dramatic double pedestal that leads to a contemporary design. It has a Deep Maderia finish with Mother of Pearl Sights on the railings. It is available in a 8ft and 9ft with either Unique or Standard leg options.
The Centurion features an attractive and sturdy pedestal style legs, and is available in Matte Black and both in 8ft and 9ft. It has a both the Enclosed Pocket and a Gully Return for whatever style you would like in your house!
The Brixton is available in a Beachwood and Driftwood Finish with its Hammered Metal Rail Sights. It is available in both the 8ft and 9ft and features clean lines and a sturdy yet streamlined design that showcase the unique "X" foundation underneath the table.
The Bridgeport has two luxurious finishes Chestnut and Espresso and is available only in a 8ft size table. The best feature of this table is the optional sliding drawer that come out of the side of the table which is perfect for your cue sticks storage and accessories.
The Birmingham has a rugged charm with an industrial look that gives your room a vintage touch. Incomes only in a Charcoal finish but is available in 8ft and 9ft sizes. It also comes with either a Unique leg or a Standard leg. The pedestal base includes a Cast Iron feature with Hand Hammered Rail Sights.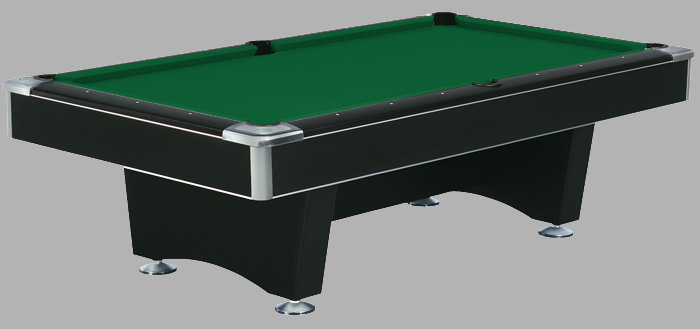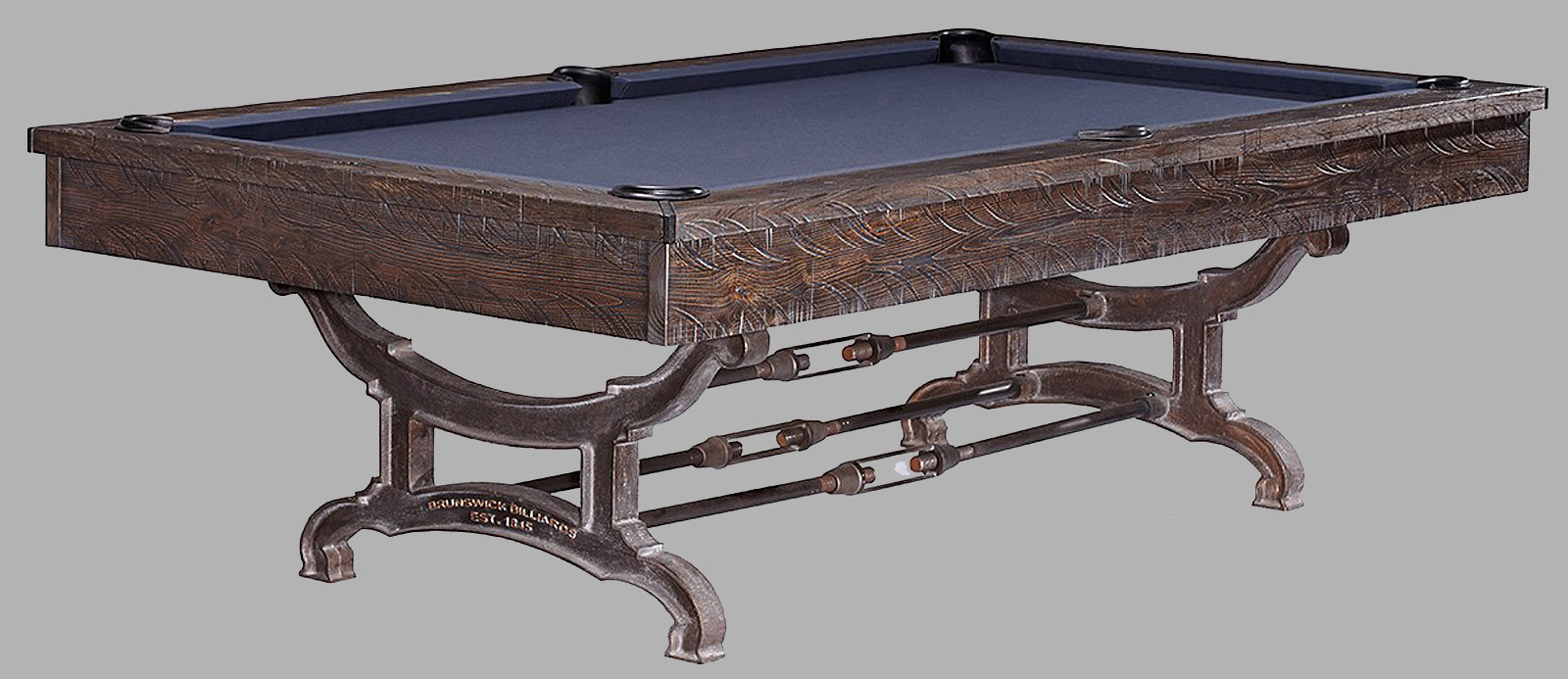 The Park Falls is a beautiful refined table crafted out of white oak. Accentuated by its Greystone finish it drawn on natural earth tones. It features Diamond-Shaped Antiqftue Black Metal Rail Sites and Leather Drop Pockets. This table comes in an 8ft option only.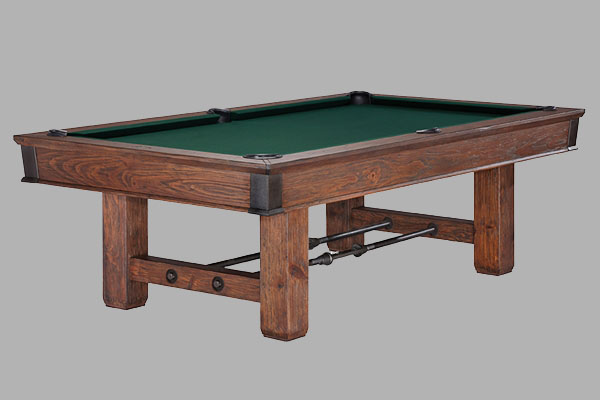 The Canton is a unique rustic meets industrial table available in your choice of Black Forest or Rustic Grey Finish. This one of a kind table features aged metal turnbuckle stretchers, corners and hardware and artful hand hammered sights. This table is available in an 8ft option.
The Glenwood is a graceful addition to any home. One of the most versatile tables in the line offering a wide variety of finishes, leg styles, cloth and pocket styles. It is available in both 7ft and 8ft options and can be fully customized.
NEW TABLES COMING SOON!!!