**Not All of the products we offer are shown on our website. If you have any trouble finding what you are looking for, please contact us and we'll do our best to help.
The Brunswick Corner Kick is an exclusive sturdy cabinet with a matte black finish foosball table that has a three-man goalie that offers a wall of defense and incredibly fast play. It contains adjustable leg levelers that make installation and leveling easy on uneven floors.
The Tornado Tournament brings home all the features of the Tornado Platinum Tour Edition... except the coin mechanism. Featuring the upgrades that Tournament Players have asked for. Patented Tornado men improved with sharper corners and increased cross
section for better ball control and passing. Color-keyed, super high grip, interchangeable handle system exclusive to Tornado.
The Tornado Worthington showcases the classic and attractive finish of Champion'€™s Worthington Shuffleboard, coupled with the play ability of Tornado'€™s Elite. Featuring a furniture-grade wood finish, dual ball returns, heavy gauge rods, and Tornado'€™s patented split bearings for easy maintenance and professional play quality. Black and Soft Maple wood finish (not a laminate), with Thin-wall bearing design allows for improved passing and shot-blocking.
The Tornado Sport is the perfect table for both starters and the more experienced player. The height adjustment, durable construction and Mahogany Melamine finish allows for generations of enjoyment from the young, and young-at-heart. Dual End Ball Returns with SureGrip black plastic handles.
The Tornado Elite table is a professional table available for the home. This beautiful table features dual ball returns, heavy gauge rods, and Tornado's patented split bearings for easy maintenance and professional play quality. Victorian Cherry laminate finish on a 1 ½" thick cabinet. New thin-wall bearing design allows for improved passing and shot-blocking.
The Tornado Reagan includes all of the Tornado quality features plus: the Solid Maple Construction, with mitered cabinet for strength. There is a Mill Creek Finish with decorative dentil molding. Adjustable leg levelers are included to change the level of the playing surface.
The Premier Foosball from Brunswick boasts a unique Metal X Frame giving it elegance and increased stability. With its sturdy vinyl cabinet and melamine play surface this stunner features end ball return, adjustable leg levelers, three piece bearings and 3-man goalie for fast play.
The Presidential Zoom Foosball comes in a black finish with silver trim. It features dual-sided ball returns, dual-sided ball drop entry dishes, a 3-man goalie, curved interior playing surface ends and adjustable leg levelers providing for an accurate, level playing field.
The Presidential Bolt Foosball is designed for the serious player. With its sleek black finish, this regulation-size foosball table has all the qualities you will find in a professional table without breaking the bank. Adjustable leg levelers, counterbalanced men, dual-end ball returns, dual-side ball entries, super grip plastic handles and a 1 inch thick cabinet are just some of its features.
The Tornado Classic combines a contemporary look with heavy duty construction and many of the features found on commercial tables.
The Tornado Madison includes all of the Tornado quality features plus: the Solid Maple Construction, with mitered cabinet for strength. Solid Maple construction in a Rich Heritage Mahogany Finish with Ball & Claw Queen Anne style legs set this foosball table apart from the rest. Adjustable leg levelers are included to change the level of the playing surface.
The Garlando F-100 Foosball Table has a sturdy 1-inch thick MDF Cabinet with Cherrywood Melamine Coating to protect against stratching and marring. 4-inch Square MDF Legs with black melamine coating provide stability during aggressive game play. The unbreakable red and blue players are molded directly onto the telescopic rods.
The Class is the First Home Garlando Foosball Table with Top Glass. Matches are quieter as the glass softens the game noise. Balls remain inside the play field area preventing them to get lost or stolen. The tempered, non-reflective sanded glass play field stays clean thanks to the sturdy top glass.
The Garlando F-200 Foosball Table is the Entry Level table from the Evolution Line. 3/4 inch thick MDF fiberboard in Melamine Coated to prevent scratching. The telescopic rods provide safety for all ages and skill levels. The sturdy construction is enhanced by a smart color combination inspired by the hi-tech style.
The Garlando Evolution Foldy is a classy black and silver that features folding legs for space saving. With 2 wheels that appear once the legs are folded, this table is quick and easy to roll in and out of areas that do not allow for constant table display.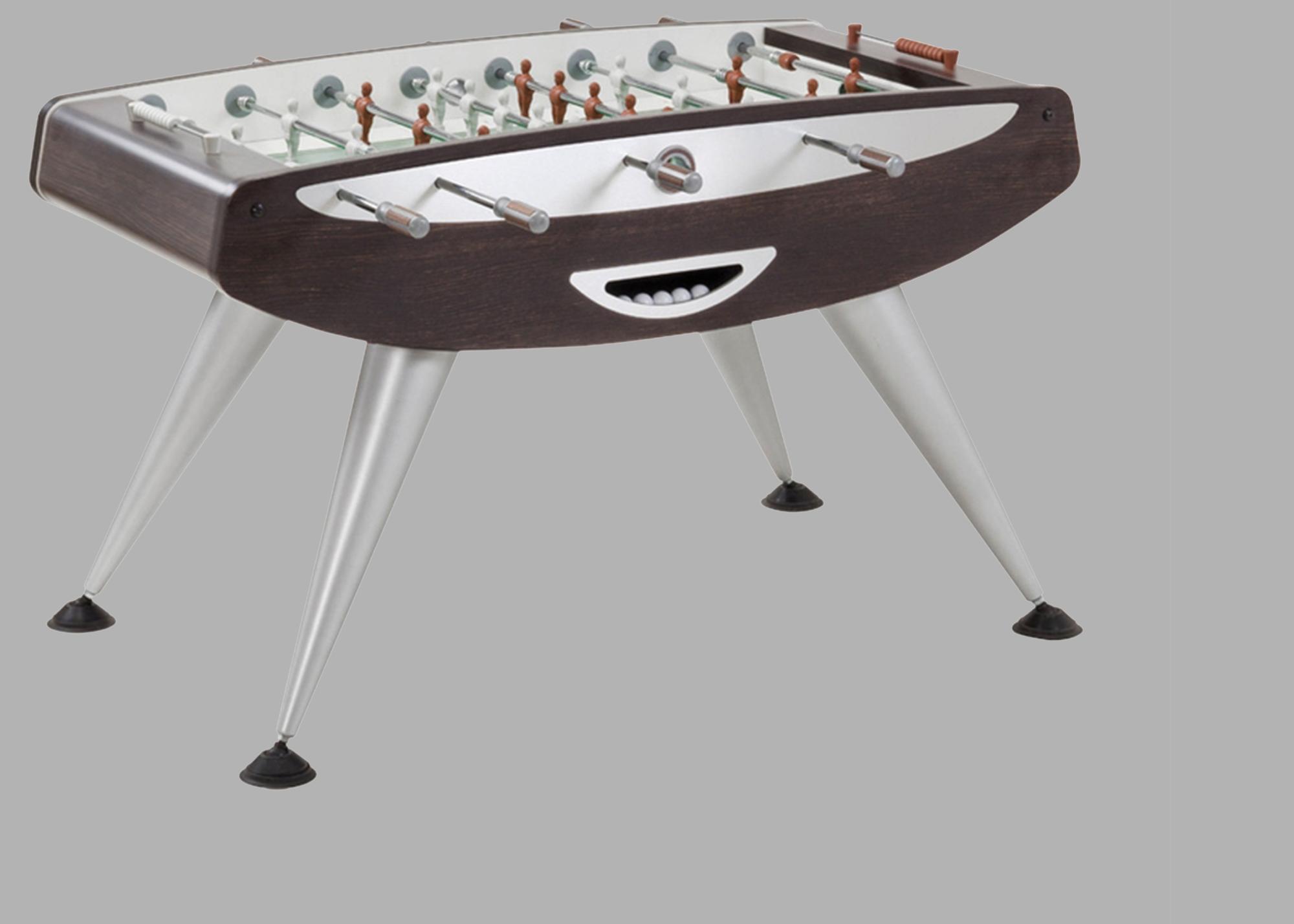 The Exclusive is designed in celebration of Garlando's 60th Anniversary for those with a taste for Style and Refined Objects. Its sleek but sturdy cabinet, in an elegant wenge coating, is enhanced by the brushed aluminum and wooden finishings. This table features a complete absence of visible screws and plastic details giving it the smoothish finish.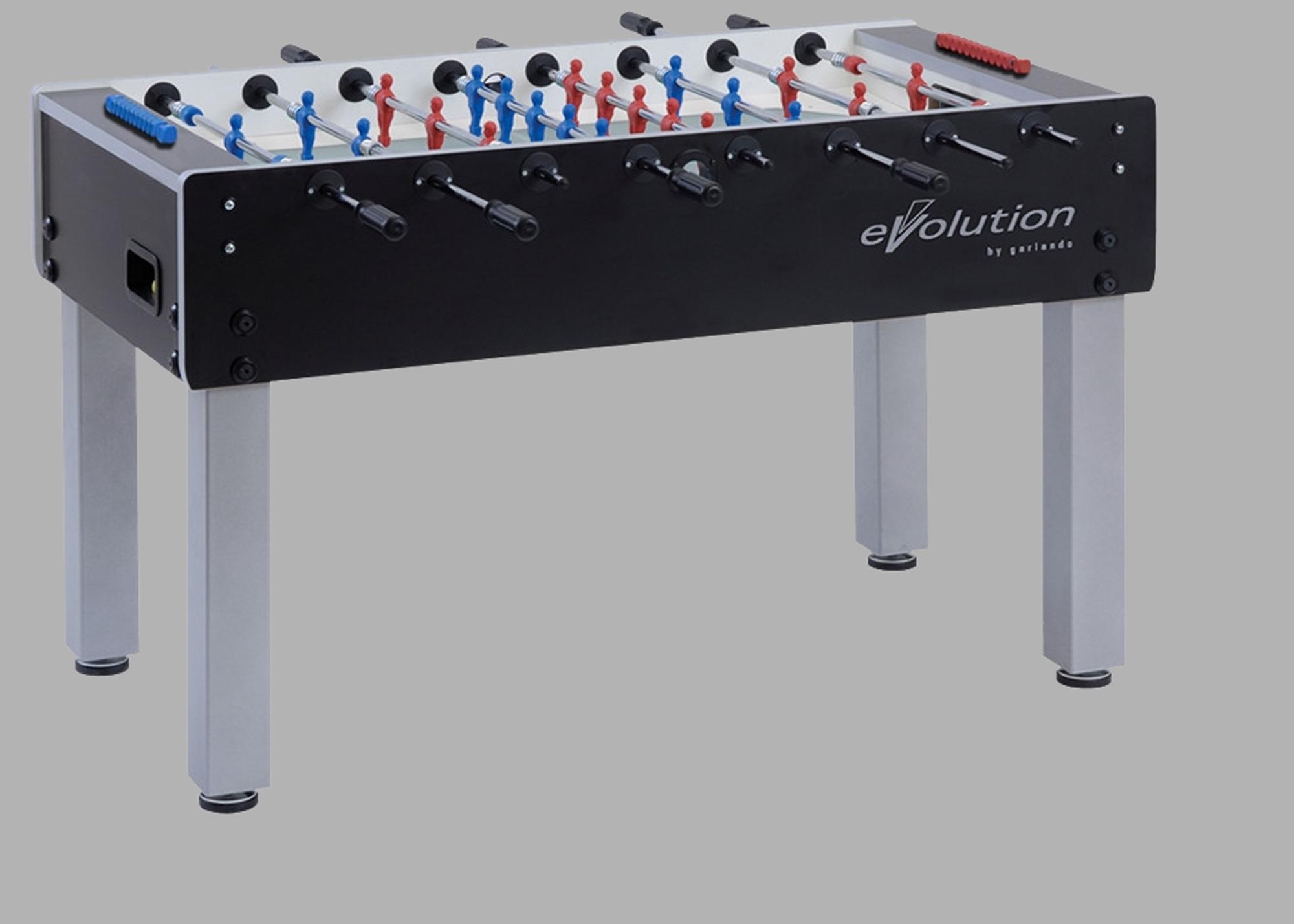 The Garlando G-500 Evolution boasts the Black and Silver look of the ITSF tables. The sturdy cabinet is constructed of 1-inch MDF with a melamine coating. The heavy duty legs are made from-inch square steel with durable washable powder coated finish. Leg levelers ensure a perfectly flat playing field on any surface.
The Garlando G-500 Grey Oak combines the elegance of Oak with excellent stability and playability. The 1-inch thick MDF Cabinet has a Grey Oak color Melamine Coating providing a furniture look and protection against scratches and dings. Also available in Pure White with Silver Legs.
The Garlando G-500 Weatherproof Foosball Table is an extremely sturdy cabinet constructed from Marine High Quality plywood coated with Plastic Laminate. Steel coated heavy duty with powder varnish and anti-rust stainless steel bearings ensure maximum outdoor game play. A cover is included with this table for additional protection.
The Garlando G-2000 Evolution is an elegant black and silver Foosball Table constructed from 1inch MDF Board with Melamine Coating. Slanting 2 1/2 inch legs with a cross piece of MDF provide great stability. The leg levelers ensure even play on any surface.
The Defender Foosball from Brunswick boasts a V-shaped metal base. The black play field with graphics is double sided HPL MDF. Single-man goalie with counterbalanced players for the ultimate game play.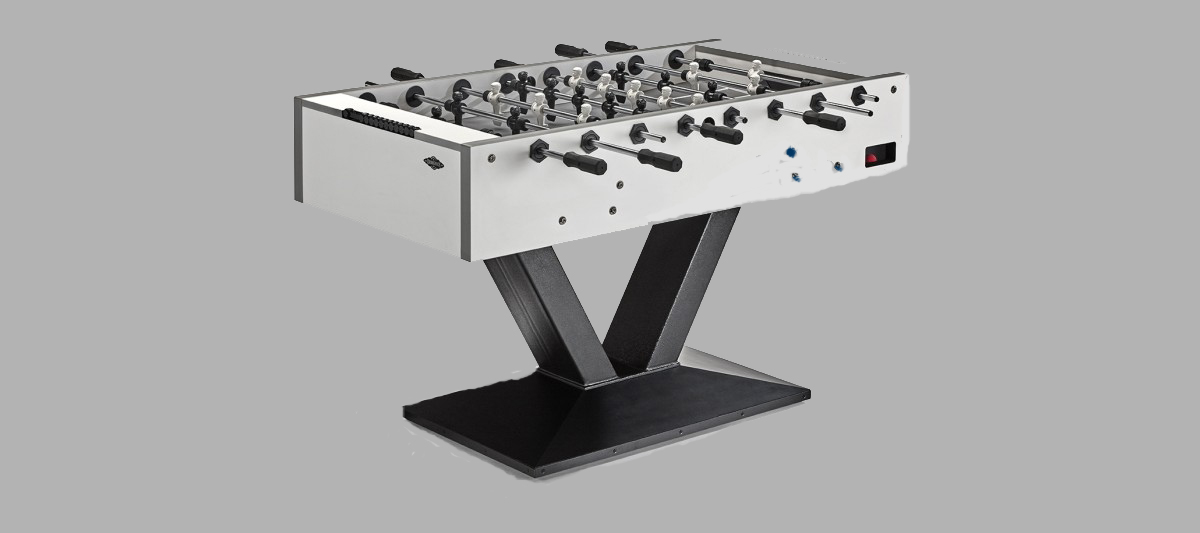 The Brunswick Euro Scorer is a sturdy, scratch-resistant laminate in a rich walnut finish. It features inclined corners for fast, non-stop play.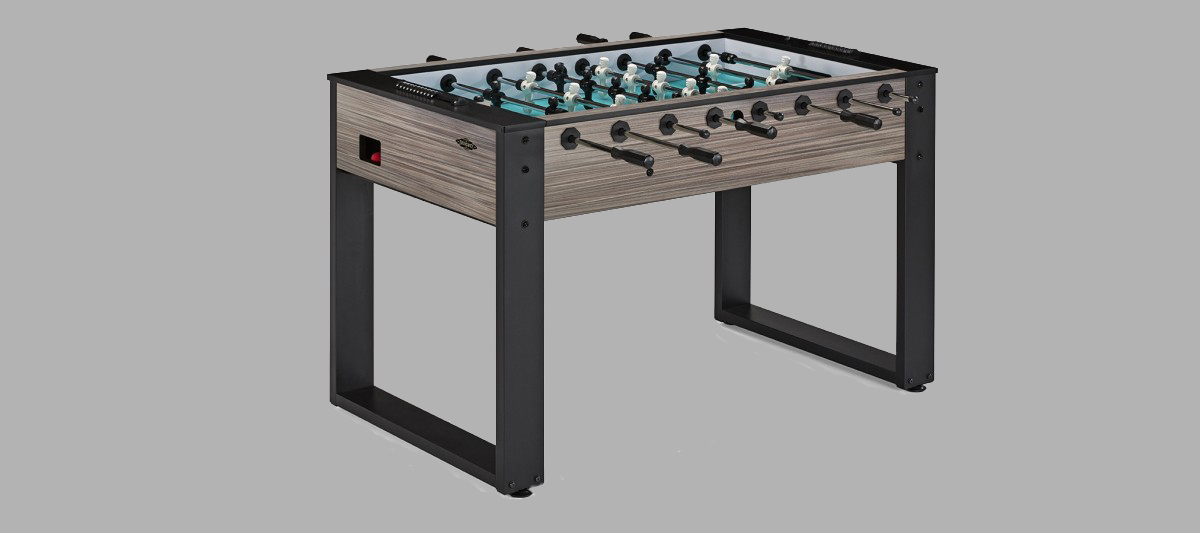 The Imperial Homestead Foosball Table combines classic foosball gameplay with a distinctive rustic style. This table features a worn Cappuccino Finish to flawlessly blend with any room decor.Unique X-shaped legs and crossbeam add both style and support to the minimalist design.
The Garlando G-5000 Butcher Block is a top-of-the-line freeplay foosball table. This superior model boasts an elegance of classical sophistication constructed in the highest quality materials. The distinguished cabinet outline, graceful slanted legs, and soft new wood grain or grey finish make this a perfectly refined style. Telescopic Rods add a welcome bonus to this table.
The Garlando G-5000 Evolution Foosball Table is made of high-quality, multi-layer 1-1/4" plywood coated with plastic laminate providing an extremely tough structure. The slanted legs are constructed from finely lacquered, 1-1/2" beech wood with leg levelers for optimum stability.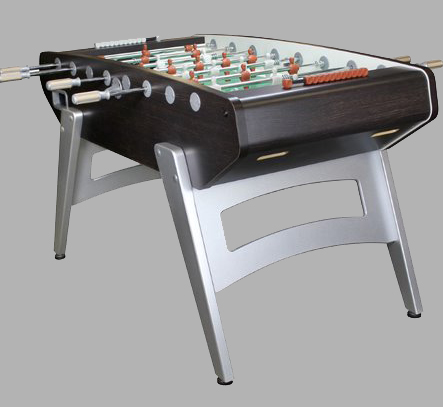 The Garlando G-5000 Wenge Foosball Table is constructed with the highest quality materials to ensure years of competitive game play. This table has 1-1/2" cabinet walls with a plastic laminate finish. The plastic laminate playing field features a green background with white lines portraying a soccer field. The grey and brown players are made of unbreakable plastic and molded into the bars for supreme play.
The Garlando Special Champion is designed to accomodate 2 wheelchairs on each side. With telescopic rods and easy to reach ball rescue, this table is sure to provide hours of fun for everyone.
The Garlando Master Champion is an ITSF table authorized for competitions International, Masters Series, and Pro Tour. Serving up the same excellent features of the coin-operated model in a home product boasting competition score counters and leg levelers.
The Garlando World Champion Coin-Op Foosball Table is an updated edition of the ITSF Official Table. The sturdy cabinet structure is reinforced to keep the table stable during hard-fought matches. The playfield corners and the bar rubbers eliminate any dead zones, while the goals allow more regular ball trajectories.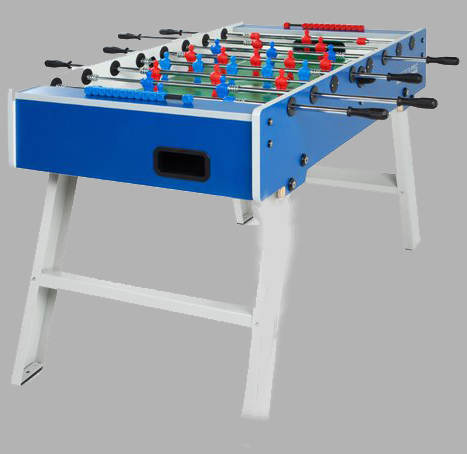 The Garlando Master Pro Weatherproof is a professional table with folding legs for easy storage, and telescopic safety bars. The cabinet is manufactured in 20mm thick waterproof plywood covered with plastic laminate using special water-proof glue for perfect sealing. The metal legs are coated with water-resistant powder varnish.
The Garlando Open Air Foosball Table lets you bring the fast action of the game anywhere. Made with special weather-resistant materials, this table is ready for outdoor play year-round.
The extra-large 8-player Garlando XXL Foosball Table offers increased fun and more interesting actions, thanks to its longer playing field. Suitable to accomodate and amuse larger groups of people, this table will is great for any large event. The telescopic rods provide extra safety.
The Dynamo Big D is combines a contemporary look with heavy duty down corner construction. Gunstock Savoy laminate, natural solid-wood handles, single side ball return, and commercial grade leg levelers make for attractive, professional level game play.
The Striker Foosball by Brunswick boasts a beautiful matte black PVC leg structure with an MDF with HPL cabinet. Counterbalanced players, wear resistant rod bearings, and the single-man goalie make this table a must have in any home.
The Presidential Breckenridge Foosball table is designed to provide your family with hours of fun. This stylish game table includes all the equipment necessary for multi-player games in your home. This table features dual-end ball returns, dual-side ball drop entries, counterbalanced men, and suregrip black plastic handles.