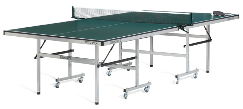 **Not All of the products we offer are shown on our website. If you have any trouble finding what you are looking for, please contact us and we'll do our best to help.
The Brunswick Conversion Top is for friendly competition that never ends with this durable, foam pad-backed table tennis conversion top. Featured in a stylish black finish with Brunswick brand it includes everything you need to become the next neighborhood champ, including paddles, balls and clip-on net.
The Presidential Conversion Top is a 5' x 9' conversion top has a fully rubberized under side to prevent any scratching to your pool table rails. The net, two paddles & three balls are included.
The Indoor Rollaway table with a heavy duty 1 1/2" aluminum frame, with 3" resilient lockable casters. The superior accessory kit comes with a convenient clip-on net, two paddles & three balls. The Indoor table's 3/4" top is made of a durable wood composite.

The Indoor 10 W/4 Player Set 7/8" wood top with medium density rating. All outer edges are protected and supported by a 2.5" wide tubular steel apron. Removable soft-touch edge protectors protect the top during transportation and the player during the game. True playback feature for warm-up or solo play has no wide gap for ball to drop in.
The Smash 3.0 table is Brunswicks brilliant green playing surface table with matching net and net clips helps Smash 3.0 stand out, both in appearance and performance. Featuring a 16mm-thick playing field, sturdy undercarriage and casters, and fold-up capability for easy storage.
The Smash 5.0 table is Brunswicks mid-range model features a handsome blue playing surface with matching net and net clips. With a 18mm-thick playing field for great stability and even greater shots, an undercarriage and caster system designed for strength and mobility, and fold-up capability for easy storage
The Smash 7.0 table is Brunswicks latest entry into the table tennis game is as powerful as its name. Smash 7.0 features a classic black play surface, matching net and net clips, with a sturdy 25mm-thick playing field for every loop, flip and (of course) smash you make. A strong undercarriage ensures exceptional strength and stability, while the easy fold-up system makes moving and storage quick and convenient. Smash 7.0 is truly a force to be reckoned with, and the ideal table for any age and level of play.